I am in Paris until Tuesday evening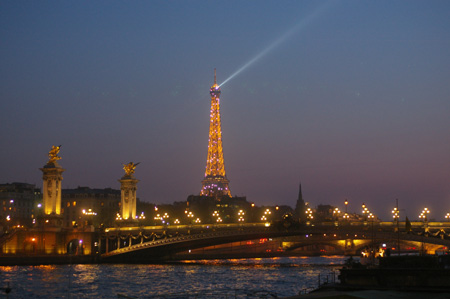 I haven't blogged on Wednesday's England v Sri Lanka game, which in a way is a shame, because it was probably the best
game of cricket
in the tournament so far. The game swang to England, to Sri Lanka, to England, to Sri Lanka, and then England managed to just about eke out the runs, with Bopora and Nixon batting well at the end.
But, Nixon got out with a couple of overs to go, and England ultimately found themselves with Bopora needing to score three runs to win off the last ball of the match from Fernando. Fernando finished the innings with what may have been an interesting piece of gamesmanship, although I am sure he would deny it. Dilhara Fernando came in to bowl the last ball, but didn't release the ball, claiming to have messed up his runup. Having thus distracted the batsman, he came in again and bowled a beauty, clean bowling Bopora and winnig the game for Sri Lanka by two runs. Sri Lanka are now clearly in a
safe place
on the table, and a semi-final lineup of Australia, Sri Lanka, South Africa, and New Zealand looks likelier than ever. If South Africa beats Bangladesh tomorrow, all those four teams will have six points (Sri Lanka and South Africa having played one extra game each), England and the West Indies will each have two, and Bangladesh and Ireland none. That gap between fourth and fifth will be hard to close.
In truth though, I am not sure Sri Lanka should be terribly positive about their performance. Their top order did not bat all that well, and their score of 235 was probably a good way short against opposition with stronger batting. They had several chances to really put their foot on the England throat, but couldn't do it, winning rather luckily at the end. I think Sri Lanka's position on the table is fair - they have had two very close ones and have won and lost one each, but I think Australia would have scored 100 runs more than Sri Lanka did against that England attack, and in that case England would have had no chance. Sri Lanka can always surprise anyone, but I think at the moment they are looking weaker than Australia or New Zealand.
The tournament resumes tomorrow with South Africa taking on Bangladesh. That should be a straightforward win for South Africa, and then Australia takes on England on Sunday. Australia will have comething to prove after their losses in the CB trophy in Australia, and I think they will come out with all guns blazing. If Australia bat first, I would expect them to get a very big score. With Watson's injury, it will be interesting to see who Australia bring in. They will probably bring in Brad Hodge, but that will weaken the bowling, which I am not sure is a great idea. The batting can be weakened a little without it mattering, but the bowling is more marginal. It might be better to bring in a specialist bowler like Mitchell Johnson. We will see what they do.
If any readers are in Paris, I will be watching at least some of the match in the Frog and Pricess in St Germain. The pub has WiFi. I am the guy with the Sony Vaio subcompact laptop who is in need of a haircut.