Wandering around Paris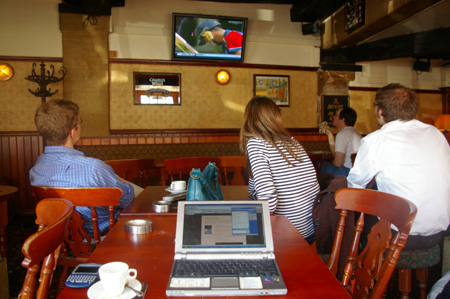 After some Steak Tartare and perhaps a little too much Cotes du Rhone at a cafe in the 5th arrondisement, I seem to have stumbled into The Bombadier in Sq. P. Langevin. I have everything I need here: cricket, coffee, English supporters to taunt (or vice versa, depending on circumstances) even a power outlet for my laptop. Finding places to watch the cricket in Paris has not turned out to be difficult: I watched Bangladesh v South Africa yesterday in The Cricketer, up near St Augustin. I may still head for the Frog and Princess later, depending on mood.
As it is, Hodge is in for Watson for Australia. I am not sure this is a great move, as Australia's bowling needs strengthening, and this weakens it. The batting may well be stronger with Hodge in, but who cares? The batting was awesome already.
Hodge started very well with the ball. Neither Vaughan nor Strauss could take the pace, and both played on to Hodge. As I speak, it is 2/49 in the 13th over. Pieterson and Bell are going after McGrath a little in the second power play. Michael Clarke is also bowling early. It may well be that Australia are a bowler short, and Ponting is trying to get through the weakness early and is keeping the best bowlers early. It might or might not be working. If one of these batsmen were to get out relatively early, I think one would say it has worked. If they get 40 off the five over power play, not so much.
Update:
Pieterson and Bell are batting well now. As it happens, Australia got 35 off that five over power play. In particular they got 13 runs off over 15. At that point Ponting did not take the third power play, but he kept bowling his lesser bowlers, clearly to get the ten overs from the weaker bowlers out of the way as early as possible As I write, it is 138/2 after 25 overs. Bell and Pieterson both have 50s and Pieterson looks dangerous. Clarke and Symonds have bowled eight overs between them, so Ponting can strengthen the bowling soon and not have to worry about the bowling weakness later. However, he still has to play the final power play soon. I doubt he will want to start it any later than 30 overs, but he will presumably want to do it when wickets are falling. It is a bit of a dilemma. (This is assuming Glenn McGrath can bowl well. At the moment he has three overs for 25 runs, which is not great. If he can't it is worse). Ponting dropped Bell of Symonds' bowling a couple of overs ago. It was a very difficult chance and it would have been a blinder had he taken it, but Ponting almost got it and was clearly furious with himself for missing it).
England are playing well here. Australia need wickets.
Further Update
: 146/2 after 26 overs. Ponting has taken the Powerplay and brought Tait on to bowl. Crunch time.
Even further update
. Australia got back on top during that power play, but it started out frustrating. Tait did immediately slow the run rate, but in the third over of the play Pieterson hit a straightish ball and hit an easy catch to Matthew Hayden at long off. Hayden promptly dropped it. The Ponting dropped catch was difficult and excusable, but this one was a sitter. Brag Hogg was fielding nearby and could have taken it also. At least the two players did not collide a la Steve Waugh / Jason Gillespie.
However, Glenn Mcrath's second over of the spell (the fourth of the power play) was a beauty. Bell mistimed a drive which was taken (regulation - thank goodness) by Hussey in the covers. The partnership of 140 was an excellent one and Bell batted excellently for 77, but it was over. The next over Collingwood got an edge to a fast one from Tait and it was 167 for four. It is now 168 for four after 31. 22 runs and 2 wickets off the five overs. Pieterson is still not out and England could still score 300, but it looks much better for Australia. Ponting has immediately brought Brad Hogg back into the attack at the end of the power play. (Hogg has bowled well for 0/28 off six so far.
Furthest update for this post
England were evetually all out
for 247
off 49.5 overs. This was an excellent containing bowling performance from Australia, who looked like conceding a lot more at one point. Pieterson slowed down as he approached his century, got it, and then got out. This didn't strike me as an impressive team performance. Excellent bowling from Tait, Bracken and Hogg. More from me after I have had some dinner, but I think Australia should get these runs without that much difficulty.